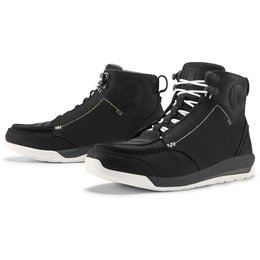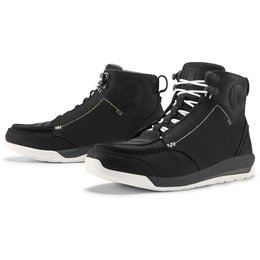 For the Truant 2 boot, Icon went back to the drawing board...and set it on fire. Is it a moccasin? Is it a hi-top? Literally no one knows. The full-grain leather chassis features a hidden ghillie lacing system for a secure fit with minimal fuss and D30 inserts in the ankle. Internally, the Truant 2 boot features an engineered lasting board to provide the structure necessary in a motorcycle boot while still allowing off-bike comfort.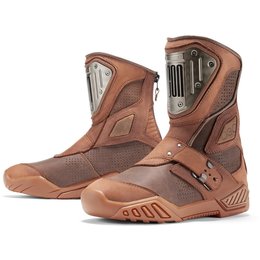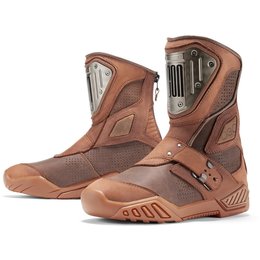 Sometimes we have to look back to move forward. The Retrograde boot is a prime example of this philosophy: classic silhouettes re-imagined using modern technology. A full-grain leather upper featuring a stamped alloy shin plate provides true moto legitimacy, while a full-length rear zipper provides ease of entry. Internally a D30 insert and axialmetric steel shank do the rest.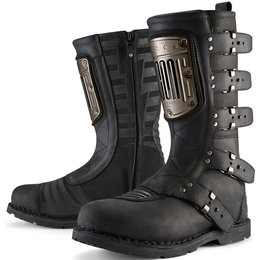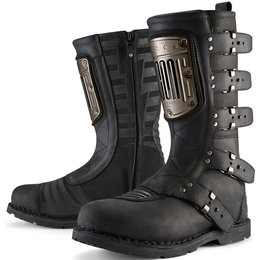 The Elsinore's five-strap alloy buckle chassis, stamped metal heel plate and internal steel shank combine for a serious dose of moto-x homage. The traditional Goodyear welt construction mates the Icon street-specific sole to the magnificent leather upper. A medial-entry zipper, borrowed from paratrooper jump boots, is the only luxury the Elsinore will allow itself. A modern relic from an era when men were iron and tanks were steel, the Elsinore is old-school MX reinterpreted for the urban sprawl.